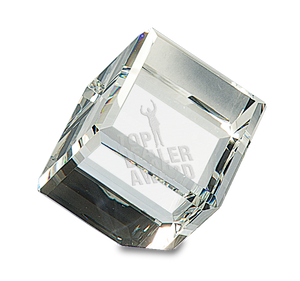 This Crystal Cube Award is an elegant recognition piece that is perfect for honoring outstanding achievements or milestones. The cube is made of high-quality crystal that is transparent and reflects light beautifully, creating a stunning visual effect.
Available in various sizes, the cube is compact and easy to display on a desk, bookshelf, or mantel. The cube has a solid and weighty feel, giving it a sense of importance and significance.
This award can be personalized with a custom message or logo, making it a unique and meaningful gift for employees, volunteers, or anyone who deserves to be recognized for their exceptional contributions. Whether it's for professional achievement, academic accomplishment, or personal milestone, this award is a timeless and elegant way to honor and celebrate success.