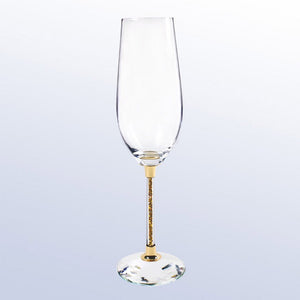 Elevate any special occasion with the elegance and charm of this exquisite crystal champagne flute set. Designed to add a touch of sophistication and allure, the set features a mesmerizing multi-beveled base that effortlessly captures and reflects light and a stem filled with gold accents creating a dazzling visual spectacle. Celebrate your next event with a sense of luxury, these flutes are the perfect complement to infuse your gathering with elegance and refinement. 

Make it the perfect keepsake by having the recipient's name or a particular date engraved on the body of the glass. 
Product Details:
Gold Accents

9 1/2" Height

2 Crystal Champagne Flutes and a white keepsake box with foam inserts to keep your glasses safe for storage.